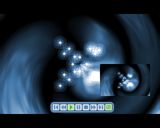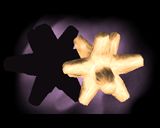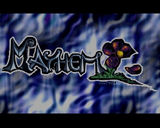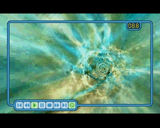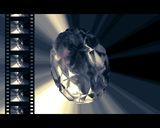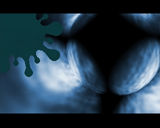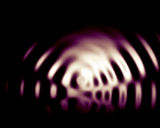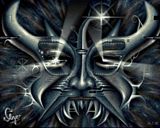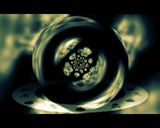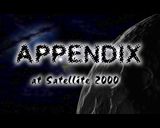 comment by ToAks on 23 May 2004
damn i had forgot about this demo, its quite good infact though it most likely needs an 060 to be good.
---
comment by Thematic on 18 June 2004
It sounds quite weird, so got to give it a 3.
---
comment by kempy on 05 July 2004
I don't like this demo. It looks to me like chaotic mix of various (ripped/copied) effects. Ah, and it was 2nd (1st was "I want to be machine") Appendix demo released at Satellite 2000, party organized by... Appendix.
---
comment by z5 on 21 November 2006
I really like this demo a lot. I'm a sucker for Slayer's graphics so this is always a plus. The tune by Grogon is nice too. On top of that, i enjoyed the effects a lot. Yes, they may have been done before but who cares. They were all well executed and ran smoothly. I was really impressed with the effect in screen 9, which, combined with the music, gave me goose bumps.

This was the first production i saw from Emers, the coder, so i was impressed by his abilities. Sadly, he left the Amiga scene way too soon :(. If i'm not mistaken, most of Appendix are making games for consoles/small handheld game thingies now.
---
comment by z5 on 21 November 2006
And if i'm not mistaken, Emers was the brother of Noxis, another extremely promising coder (mute 12) who left far too soon.
---
comment by madbart on 12 August 2008
Hey,
I'm Appendixer but i wasn't working about that release a lot.
Personally i like it. Quite fast and nice demo. Nothing special but OK.

Kempy, i see that is second bad note about our release ;)
Reason is simple that we released two demos on a party organized by us - look at the past. In this time there wasn't another party to release a demo... simple.
---
comment by madbart on 12 August 2008
z5: yea currently i own appendix games which is developing nintendo ds, wii, psp, pc stuff and a little bit j2me, but there are few sceners only.
---
---
Please log in to add a comment!
User Votes: Average: 3.75 points (20 votes)
---
Please log in to vote on this production!