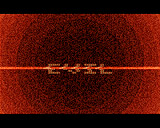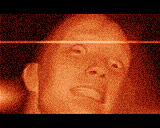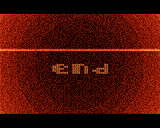 comment by bonkers on 31 March 2005
Thanks z5 for not adding any more screenshoots to this intro =)

About the intro, actually not to bad, this intro includes 2 fullscreen images which in itself are quite an effort, add to that there is also the sound of evil and we have a nice pice of art. I wish that Xeron would realise that he actually is quite a coder and do a "not trying to be funny" production, because I belive it would be very good.
---
comment by mailman on 31 March 2005
Nice coding but I think that there are some limits of horribleness.
---
comment by xeron on 01 April 2005
Wheee! I'm finally on ADA! Hooray! (I am actually genuinely pleased about this).

The story behind the intro:
A couple of years ago I was trying (not so seriously) to write a softsynth engine for a 4k intro. I'd already written an a 4k sound engine (for Shine by Darkage), but I wanted to do something a little better than square waves and noise. While experimenting, I managed to create a horrible noise, but one which changes subtly over time and doesn't loop for hours. I never used it for anything but always kept it.

Then, on IRC, I was talking to Dr. Doom about creating some stuff for breakpoint. I remembered this noise generator I'd written which only took a few bytes, and wondered if we could "theme" an intro around it, and maybe call it "4kB of Pure Evil", or "Axis of Evil" or something. Then Dr. Doom visited me for the week before breakpoint and we tried to make evil-themed graphics to go with the evil-themed sound.

Originally, the intro was going to leave the "screaming" noise on permanently, so curious people (read: masochists) could hear how it changed over time, but leaving it on the hum fitted the design better.

I actually like this intro, and am quite proud of it. But I don't mind if people give it low votes, since I made it for fun, and it was fun to make. So: Mission successful!
---
comment by xeron on 01 April 2005
@bonkers
i'm not a great coder, i just fake it well ;-)
---
comment by kempy on 01 April 2005
hey! this intro is so scary... i liked it for sure! more red!
---
comment by Ralph Wiggum on 02 April 2005
This intro reminds me of the video tape in the film "The Ring" :D
---
comment by scicco on 04 April 2005
I'll give the code and effect stuff a 3/5, the picture inside 1/5, that makes 2/5 out of it.
C'mon guys, do more serious stuff and your intros will rock! :)
---
comment by pyksy on 23 April 2005
Nice one. One bonus point for featuring Bob G!
---
comment by wayne on 29 May 2005
Hidden feature:
... hold RMB and you'll see it ;o)

Hope it's not an asshole ;o))
---
comment by skan on 29 June 2005
Evil, indeed.
---
comment by britelite on 01 July 2005
Just before you die, you see.... Evil/Iris!!
True classic =)
---
comment by movew_ on 11 April 2008
A Masterpiece.

The obviously serious data compression for the images is an added bonus!
---
---
Please log in to add a comment!
User Votes: Average: 2.53 points (15 votes)
---
Please log in to vote on this production!