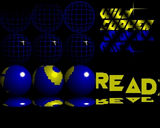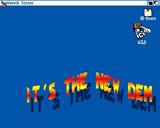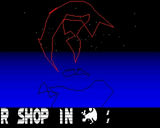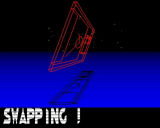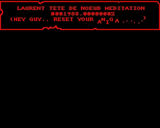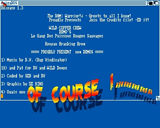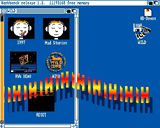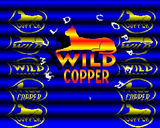 comment by Raynald Le Moing on 17 June 2002
The first one I've ever seen. The day after I bought my first miggy.
---
comment by z5 on 18 June 2002
Nice to see that there are people around here who still remember this nice demo. This was also one of the first demos i saw and it always remained in my memory. I really liked it way back. Very nice music, cool effects (wb scroller) and nice atmosphere. And i still love to watch it now, so many years later. So a classic for me. Definately.
---
comment by skan on 07 October 2003
Oh, sweet memories!!! The first blue bulk floppy I ever got was stuffed with powerpacked intros, cracktros and so on. Along with Wild Copper, there were Sinners, DOC's "Demons Are Forever", Paranoimia, Unit A and lots of others. Ah, those days !....
---
comment by epsilon on 19 April 2004
I remember this demo very well indeed. This is the first demo disk I ever saw on the Amiga (back in 1988) and it blew me away! Great effects (for the time), brilliant music and just a lot of fun to watch over and over. Recommended to all!
---
comment by ToAks on 23 May 2004
oh... wow this is quite some time since i saw...will be one of the first demos tht i will check once my amiga is up and running again...

anyway its a fav. and i lost it in 98 or something but still i will vote now as its soooooooo cool :)
---
comment by lugduweb on 03 October 2004
One of the first demos, I've seen.
A very good one. I love the "rollscroll" (don't know the name)
---
comment by zerox/gods on 13 October 2004
This is without any doubt a cool megademo. It offers some real nice effects, like the reflections and scrolling-routine. But it also lacks some routines as the best demos of that period had. Ah well, I guess the "real" demos didn't come before the end of 1988 / beginning of 1989.
---
comment by wilfred on 25 July 2006
As a young lady once told me with a knowing smile, "you never forget your first".

Still love this demo, a classic of it's time.
---
comment by GHeather on 19 August 2007
There is an MP3 of the StarScroll portion of the demo (you know the one, W... W... W... Wild Copper... I Love You... This is Amiga Speaking) available for download here, if you don't want to mess arround with players:

http://www.sendspace.com/file/utzkyr
---
comment by dragonsoft on 05 March 2008
This is my first demo contact, i was amazed. w. w. w wildcopper i love you.
Really got me into coding.
---
comment by spoke57 on 12 November 2009
One of the first demo I seen, a long time ago. Also one of the first demo I disassembled, to watch how they made the sin scroll and the rotary scroll. A few days later I talked to someone at the CB, ... it was Pat, the one who made the music of this demo ! It was great. Salut Pat.
---
comment by GHeather on 08 August 2014
The link to the soundtrack for this demo has been updated:

https://www.sendspace.com/file/4eavao
---
---
Please log in to add a comment!
User Votes: Average: 4.3 points (23 votes)
---
Please log in to vote on this production!