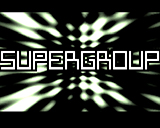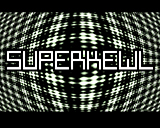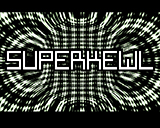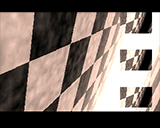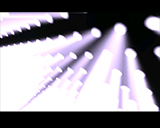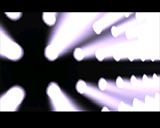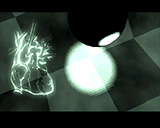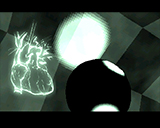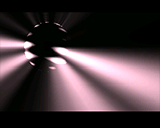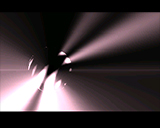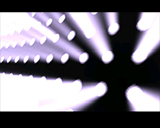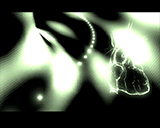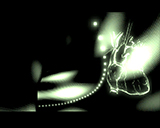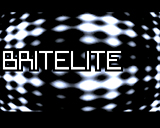 comment by ZERObleu on 14 April 2009
The monotone colors are a bit so-so, but the effects are superkewl, the sphere with the volumetric lighting in particular is amazing.
---
comment by dodge on 14 April 2009
yes, the volume brite...err light
---
comment by dalton on 17 April 2009
very good looking light effects!
---
comment by z5 on 26 April 2009
This is a great intro that could have been classic material. I love most of the effects. Very nice lightning going on here. Love the first effect. Looks very good with the font overlay. The pink ball is impressive and so are the light beams in screenshot 6,7. The tune suits the mood very well.

I just wish you hadn't used that one particular overlay graphic which doesn't suit the style imo (still can't make out what's supposed to be). I wish you had kept the white + black borders style for overlay throughout the intro. And it would have been nice to see a bit more gfx overlays. No big ones though, but small gfx here and there. That and the texture in the floor/ceiling part prevent it from being 5/5 material for me.

Great stuff though. I hope we will see more of these effects in future prods.
---
comment by dodge on 26 April 2009
It's a heart
---
comment by Frog on 26 April 2009
As titled said : "Superkewl", very nice code, design is cool but it's sad there's not more graphism.
---
comment by extralife on 27 April 2009
so, it looks like i'm actually the only one who expected something a little more melon dezignish/pimpi'sh from this :D, im sorry, but i don't like it, it's not that its bad, but when i saw the name on the livestream from bp, i expected something fresh and different with big afro's and shoes the size of a truck :D For me this was the biggest dissapointment, of them all, after loaderrors 4k :(, didnt even get blinded by the disco ball!! why not ? and its odd coz what is here is very good, guess i was just hoping for something else, a different style, im sorry flame away guys :)
---
comment by skan on 28 April 2009
so kewl it hurts!
---
comment by skp on 16 December 2010
Damn good 64k !
---
---
Please log in to add a comment!
User Votes: Average: 3.5 points (14 votes)
---
Please log in to vote on this production!