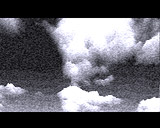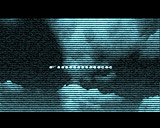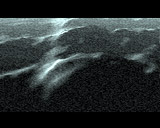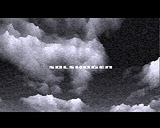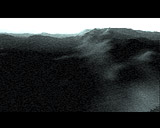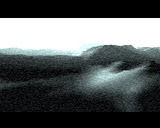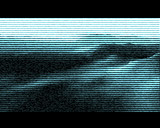 comment by z5 on 11 July 2004
I must have watched this one about 20 times already, which never happened before with a 4k. Therefor, a classic 5/5 without any hesitation.

Positive points: well, actually almost everything. Especially the soundtrack is bloody fantastic. Love the new sounds in there, apart from that one higher and nasty sounding thingie. Visuals are brilliant, as always. I really like the 'stripe' effect overlaying the screen, an effect used in many ephidrena releases. Favourite parts have to be the first mountain flight, especially the way it starts with that cool sound (the low bang sound) and the camera moving slowly to reveal the mountains. Don't know if it was intentional, but this part works well without any drums in the tune. Gives it a bit of a special mystery feeling, with that foggy look and all. Really atmospheric.

2nd favourite moment is the 2nd flight over the mountains, the fast one after the 2nd voxel part. And especially the way that it's buidling up to that part with the tune...and suddenly...wooossshhh...we fly away. Just like a rollercoaster...going up slowly, reaching the top and then let loose...

Pity that the voxel camera is only one direction. But maybe for a next 4k. And that fading to red from Respirator Stories could have worked here too i think.

Anyway, bloody impressive intro and nice to watch (which isn't always the same).

To the Ephidrena crew: What happened with your demo from Solskogen? I'm restless you know... knowing that a Ephidrena demo was released and that i haven't seen it yet? Where is it?
---
comment by kempy on 11 July 2004
Mountain trip you will never forget. Just great!

PS. We're waiting for underwater version now. ;)
---
comment by KAM_ on 13 July 2004
good intro. nice design and atmosphere, but it's slow on my 040.
---
comment by skan on 15 July 2004
OMG! 4k on Amiga are getting closer to perfection day by day, lately! ;)
I suspect one day we'll see a 4k with the same fx we used to see in 4mb prods once!!! 8)
Loady 4 president!!! ;)
---
comment by wayne on 17 July 2004
Yeah!!! Great one from EPH ;o)
---
comment by kuadziw on 01 October 2004
Damn. I will always get shocked what can be put into Amiga-4k intro. That's the reason I still have this nice piece of hardware.
---
comment by wayne on 17 February 2005
Finnmark was nominated !
Scene.org Awards 04:
best 4k intro

Could amiga 4k intro win?
It would be nice...
---
comment by mailman on 01 May 2005
OMG!
---
comment by z5 on 05 July 2005
I really hope that Loaderror will release another 4k in the future. I mean, this 4k was so different and cool, ground-breaking even. I'd love to see where Loaderror goes from here. Come on Loaderror :)
---
comment by StingRay on 20 December 2005
And I hope Loady will fix his lousy 4k startup code one day so I don't have to disable my gfx card each time I wanna see an EPH 4k. :)
Anyway, the intro is good but far too boring.
---
comment by Crumb on 10 April 2008
I love loaderror's music! the clouds and mountains are simply great...

@loaderror: yeah, please fix it! You'd better take some beers with Kiero ;-)
---
comment by dodge on 11 April 2008
soundtrack:

http://www.moodsplateau.net/share/nectarine_dl/loaderror-finnmarkOST.mp3
---
comment by pintcat on 26 June 2008
I showed this intro to a friend lately, who used to own an Amiga years ago and his only comment was: "It's kind of boring...". Maybe I should kick his nuts for this some day.
My comment: Awesome!
---
comment by skipp604 on 26 June 2008
This is one great intro. Respect to EPH.
---
comment by substrate on 23 August 2011
7 years passed and this is still my favourite 4k intro! Especially in the music department, oh my what a tune, it's a fantastic work from Loaderror! Respect.
---
---
Please log in to add a comment!
User Votes: Average: 4.6 points (30 votes)
---
Please log in to vote on this production!