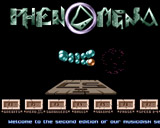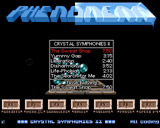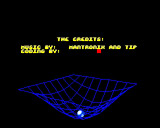 comment by z5 on 07 January 2004
Classic musicdisk! I liked the tunes more here than in Crystal Symphonies 1 (which were great also). Nice presentation, cool hand painted logos and fantastic music. Get the WHDLoad installer if you want to run this and CS1 on your modern Amiga.

By the way, Crystal Symphonies 3 (also called Fesk) was released later on by Phenomena, Movement and Pulse on the pc. Worth checking out though the quality of the tunes does vary a lot.
---
comment by z5 on 08 January 2004
And by the way, if you download the Crystal Symphonies 3 archive following the link on Pouët, you will find the tunes in the archive as modules. So everybody can check them out. Also, the modules from Crystal Symphonies 2 are on Aminet, in the mods/sets directory.
---
comment by prm on 30 March 2004
Super music disk including the songs "The Sweat Shop", "Yummy Gap", "Liberation", "Disharmony", Life-Phobia" and "The Search for Me". Color's logos are not that good but the code is really nice for a zikdisk. Great stuff!

Admins: 1992...
---
comment by z5 on 31 March 2004
@prm:

I know it was released in 1992, but i haven't found the month of release (which is needed for the database and is also the reason why quite a few other demos haven't got their release date added here on A.D.A.). I have probably read all the scrollers, but nowhere is there a mention of releasemonth. Thanks for pointing out the mistakes and the info you give on A.D.A by the way. It is appreciated.
---
comment by prm on 31 March 2004
z5: my pleasure :)
---
comment by Vanquish on 08 October 2004
This demo doesn't really hold that much nostalgia for me because I only ever listen to the mods - I always had trouble getting this demo to work on my Amiga! :(

All I can say is that 'The Sweat Shop' and 'Yummy Gap' sit very highly in my 'best mods of all time' chart. The Sweat Shop is such a wonderful orchastration of style and heartfelt piano moments that it almost feels like a conversion of a real song. And Yummy Gap, well, it's just tracking genious. Even now I load it up into FastTracker and stare in amazement at the complex pattern programming. Simply stunning!
---
comment by sp on 21 October 2005
The music from trip and matonic.... In my module collection. True classic!
---
comment by druid on 17 March 2007
i always loved that one!
---
---
Please log in to add a comment!
User Votes: Average: 4.45 points (11 votes)
---
Please log in to vote on this production!